Welcome to Livia's Dish A Unique Dining Experience
---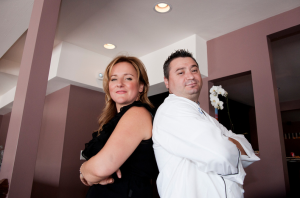 Livia's Dish is a family owned and operated casual dining restaurant. It offers exquisite Italian/Mediterranean cuisine and warm hospitality in a welcoming environment. Dishes are prepared with the freshest seafood and meats and when possible with organic, local produce. These ingredients are matched  perfectly with a new world of herbs, spices and culinary techniques to create deeply satisfying comfort food for the new millennium.
Executive chef/co-owner Enton Mehillaj, discovered at an early age that he had a passion and talent for cooking while preparing traditional Italian/Mediterranean dishes with his family. Once he moved to United State, he realized the importance of becoming an effective and successful chef by understanding the "nuts and bolts' of an operation. While attending Johnson and Wales University, Enton worked in various positions in some of the finest dining establishments. He moved up through the ranks at Marriott Hotels, Wyndham Hotels and Crown Plaza Hotel and had the opportunity to work with some of the best chefs around. Seeking the next challenge, Enton decided to pursue his dream and along with his wife, Oriola Koci, they created the concept for Livia's Dish in Worcester. Through crafting the menu, hiring the staff, handpicking the tableware, choosing the decor and designing the kitchen Enton and Oriola were able to give life to the restaurant they had always dreamed of. They decided to name it Livia's Dish after their daughter.
At Livia' s Dish, guests are the ultimate priority. To continue to provide you with an exceptional dining experience, please take a minute and tell us about your visit and experience.  We appreciate your comments and look forward to your next visit.
-The staff at Livia's Dish
---
Let us know about your experience at Livia's Dish